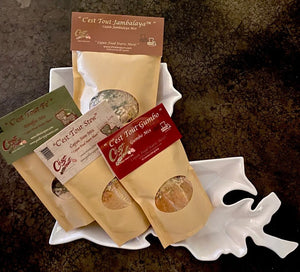 If you haven't tried our Kits yet,  now is your chance!! We compiled all four of our delicious C'est Tout Kits™  into one great deal! You get all 4 of our kits for only $20.00!!!!! Our C'est Tout Kits™ are simple to prepare and as delicious as you have ever tasted. Our Kits consist of our own handmade ingredients and are as simple to prepare as boiling water! Want the great taste of Cajun Goodness but don't have the time or ingredients? We solved that! Get yours now! 
The Deal includes:
1 C'est Tout Jambalaya™
1 C'est Tout Fe" Etouffee Mix™
1 C'est Tout Stew Cajun Stew Mix™
1 C'est Tout Gumbo Mix™
All for $20.00!! (A $4.00 Savings!)

Thank you for your continued support of our Small-Veteran owned business!
Merci Beaucoup!!!!